Disclaimer: ♡ As an affiliate, I may earn money or products from the companies mentioned in this post. I only recommend products or services that I use and trust and that will be valuable to you. ♡ :
When you start out as a new blogger, choosing your theme seems like the most important thing in the world. You want to find the BEST pretty blog WordPress theme BUT you find they come at a price. I have put together a list of the Best WordPress themes for female entrepreneurs. If you want to run a professional blog or an online business then you have to make your website look professional. This comes with a neat website design and branding.
So I am currently using the Charlotte theme from 17th Avenue (which I talk about later) and I am absolutely in love with it.
I do have to say that although deciding on your theme is extremely important, be careful and decide how much you are willing to spend. The price of themes ranges massively from finding FREE themes to having to pay up to $100. Your website design will not get you more views no matter how pretty it is. people care about the content and what they are getting out of your site. Despite this, I did prefer to go for a pretty theme as I wanted a modern looking website because it fitted me as a person.
PIN FOR LATER IF YOU DON'T HAVE THE TIME TO READ IT NOW!
Best WordPress themes for female entrepreneurs:
WordPress
So WordPress itself off some free themes you can use. When I started off, I was using the 2017 standard theme and it worked really well. You can find and search for them under the appearance section.
However, as these are standard themes and the most easily accessible ones, it means they are most commonly used. I saw so many other blogs that had the same theme as me and I just wanted mine to stand out a bit more. So that is when I decided to invest in myself.
I fully recommend you invest in yourself!
Restored 316
Restored 316 have a variety of beautiful themes to choose from. Whether you are a blogger, a business owner or a food company, they are all great for female entrepreneurs. They also offer a range of other services such as Business Organisation:
They offer a fabulous Business Planner by Restored 316 , printables and spreadsheets.
A few of my personal favourite themes from Resorted 316 are:
Restored 316 also have an amazing feature where you can take a quiz to see which theme fits you. You answer the questions so that they can offer you whatever suits you, your needs and your websites needs.
TAKE THE QUIZ BELOW: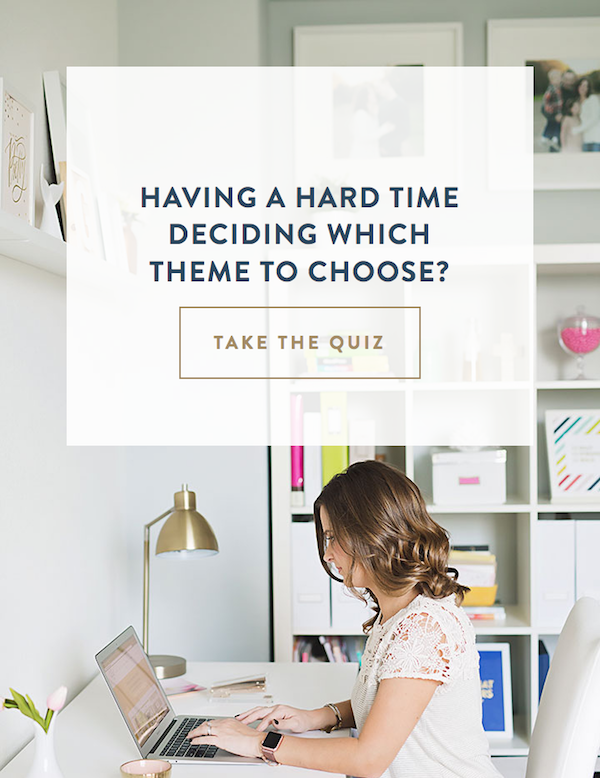 17th Avenue
17th Avenue creates the prettiest WordPress themes for bloggers and entrepreneurs. Their themes are reasonably priced. Just remember, you are making an investment into you and your website so it will be worth every penny. It is just a one-off payment and if you are looking to monetise your blog then you will more than likely make the money back!
With 17th Avenue you get:
a mobile responsive design
set up tutorial
flexibility with widgets
superb support
quality features for each design
So I am currently using the Charlotte theme by 17th Avenue:
"Charlotte is feminine, functional, & stylish. Featuring two unique homepage options, Charlotte is perfect for entrepreneurs, bloggers, and e-commerce shops!"

17th Avenue
Creative Market
Creative Market is a business that offers images, templates, graphics and fonts as well as Website themes.
Their themes start from as low as $2! Creative Market is definitely a shout if you don't want to invest massively into a theme. Which is a sensible option as I do always say that design is not everything. The content is what matters so not having an expensive theme should not hold you back.
If you are unsure about what is best for you then spending $2 on a theme wouldn't be the end of the world if it wasn't what you wanted. So I think Creative Market is great for new bloggers who are still finding their niche.
Etsy
As we all know, Etsy is a place of many small (and large) businesses. I never initially thought to look on Etsy to look for WordPress themes. But you would be surprised what you can find.
THERE ARE SO MANY THEME BUSINESSES ON ETSY!
Hello You Design
Hello you Design is an Etsy shop. They produce the most beautiful WordPress theme designs. Their theme designs are reasonably priced and is similar to what I paid on 17th Avenue.
Eclair Design
Eclair design has a bunch of pretty designs starting from £25 a perfectly reasonable price for a WordPress theme. They also offer a WordPress theme installation for only £12 if this is what you would prefer to do.
"Specializes in stylish, chic premade WordPress themes and Blogger templates. Let's make your blog looks as fab as you!"

Eclair Designs
PIN FOR LATER!
How do you choose the right theme?
Restored 316 actually provide you with a quiz so that you can be certain you have chosen the right theme for you:
Which theme is best for your website? Quiz
Choosing the right theme is important because you don't want to have to keep spending money on something you no longer use. When choosing my theme, I did my research and then went for it. I don't plan on ever-changing my theme as what I have works perfectly so there would be no need to spend any extra cash. Having a pretty blog WordPress theme will improve the overall first impression people have of your blog.
Conclusion
So to put it simply, there are so many beautiful WordPress themes out there. To find what fits you, you can either take the Restored 316 quiz, or decide on your price range and see what is out there.
I would recommend investing in a premium theme, but if you don't want to spend the money (I completely get you I was the same at the start) then I recommend investing in a $2 one from Creative Market as what can go wrong.
About the Author
Thank you for reading my post on the Best WordPress themes for female entrepreneurs. If you want to find out more check out my about me page. My name is Amber Page and I run The Unpredicted Page. You can find me over on Twitter , Pinterest and Instagram!

SOME OF MY RECENT POSTS: 30+ simple changes for a healthier lifestyle and The positives of Lockdown (written by the people of twitter!)