Disclaimer: ♡ As an affiliate, I may earn money or products from the companies mentioned in this post. I only recommend products or services that I use and trust and that will be valuable to you. ♡ :
Are you looking to find the best FREE WordPress Plugins for Bloggers? Look no further!
I started working on this list of WordPress plugins for bloggers I found when starting my blog. I hope they are of use to you too! This covers a range of plugins from anti-spam software to protect your blog to the basic contact form every blog should have.
If you are new to WordPress and blogging then you will be wondering what a Plugin in is and why you need them. Well not to worry, as I will be going through all of this including how to install and add them.
I must say, in no way am I an expert on plugins, there may be better plugins out there but these are the ones that work best for me. A lot of these are popular WordPress Plugins and for very valid reasons.
I have yet to try any premium WordPress plugins so I cannot comment on them. As the Free Plugins I have been using so far have been ding just the trick.
RELEVANT POST: FREE Blogging courses for beginners
🡫🡫 IF YOU DON'T HAVE TIME TO READ IT NOW, PIN IT FOR LATER THIS IS GONNA BE A LONG ONE! 🡫🡫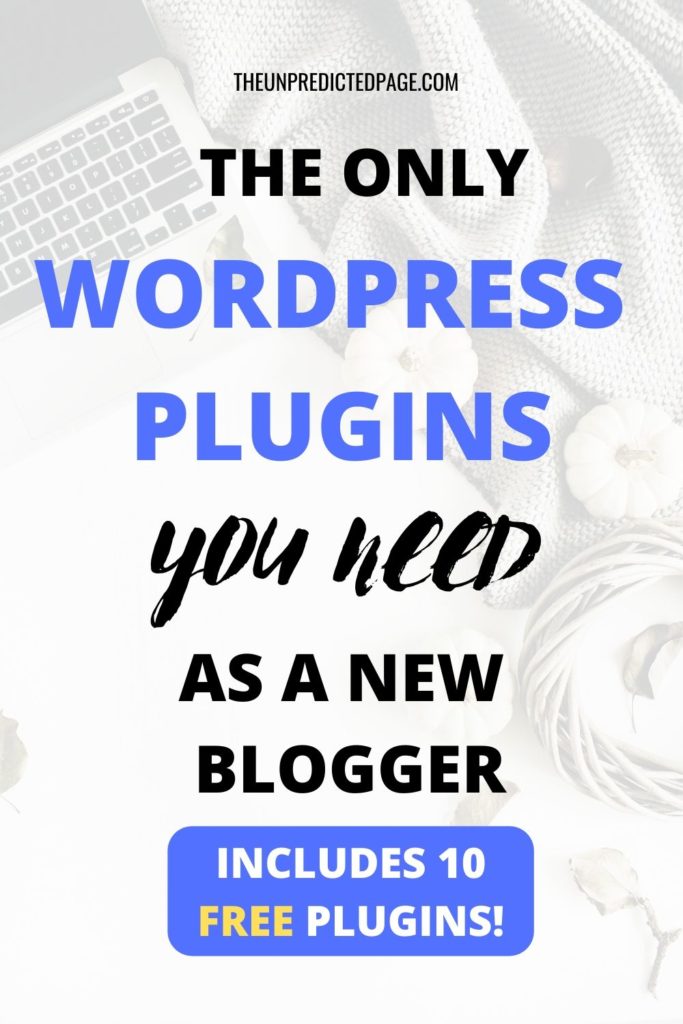 Best Free WordPress Plugins for Bloggers: Overview
What is a WordPress Plugin?
Why do bloggers want WordPress plugins?
How do you install a free WordPress plugin?
Be careful!
Before you start using Plugins
How do you choose the best plugins?
My best free WordPress Plugins for Bloggers
What is a WordPress plugin?
A plugin is something that you can add to your website that brings new features or helps your website function better. Plugins can help you share your website with others. This is very important as it makes it easier for users to share your website which has a knock-on effect. Which leads to an increase in traffic to your site.
There are thousands of free plugins and many have a pro version if you fancy going that bit extra.
They are a little bit like little apps for you're website.
Why do bloggers want WordPress plugins?
Plugins are a great help when creating your website. They can make things simple. They can help the speed and functionality of your website.
Plugins are essential for bloggers who want to monetise their content, see stats, create content forms, etc.
They offer so much value and can really improve the user experience of your blog which is what you should always be trying to achieve.
How do you install a free WordPress plugin?
As the owner of the site you can install and activate plugins. If you are not happy with them or they aren't what you expected; then you can delete them.
Click on the plugin section on the left-hand side of your WordPress dashboard.
Click Add New at the top of the page and then you can use the search bar to find what you want.
Make sure you activate the plugin for it to start working. For some plugins, they work straight away but for others, you may have to go into their settings and fiddle with a few buttons.
If you are looking for a paid plugin, you won't find them through the search function. You will have to download the plugin from the website you found it. Go to Plugins, Add New, Upload plugin. You can then select the file and activate it!
Be careful!
If you download bad plugins they can slow your site down. It the coding is written poorly then it will have an effect on your site. This will lead vistors to become impatient and leave your site.
WHICH IS NOT WHAT WE WANT!
They can cause problems and even crash your blog. If the creator hasn't updated the plugin in a while or if they have neglected it, it could crash your site. If the plugin stops working or starts to act up then just delete it to stop any problems in the future.
They can also be a threat to the protection of your site. Again, if the plugin isn't updated properly then it could leave out an important WordPress update meaning people can get through the plugins.
Another problem that can occur is if you have too many plugins they may not be compatible with each other. I have had this problem before.
You may be saying are Plugins really worth it?
It is true. Some Plugins are awful. Some are good. The majority are really really awful and you should watch out for the rubbish ones – there are ways to choose the best plugins which I will talk about later.
Since there are thousands of Plugins, finding the right ones can seem like a bit of a mission at the start. I know how it can feel at the start, I was so overwhelmed and didn't know which plugins were of any use.
Before you start using Plugins:
Something you should know is that anyone can create a Plugin and add it to the directory. There are lots of independent companies that create plugins and some are better than others. The quality of the Plugins will vary so much and therefore it makes sense if you can straight away pick the right one without having to trail and error everything.
When approaching plugins just be wary that it might not do the things you expect it to do. I know I have defiantly made mistakes before and chosen the wrong plugins. I have been through the trial and error process before so I know how tricky it can be!
But don't worry as I can help you every step of the way!
How do you choose the best plugins?
Go through these few steps to make sure youre installing the best plugins for your site:
Make sure it has been recently updated
If it has been recently updated then you know the plugin is active. If a plugin hasn't been updated in a while this could be a problem because it makes it easier for hackers to get through the plugin and get to your site so always check this.
Check the rating
I always check the rating when there are similar plugins for what I want. I normally do a bit of research and ask the twitter community and my blogger friends if they have used any of the plugins I am about to install.
Is it compatible with your version of WordPress
Just check there is a little tick at the bottom of the plugin that shows you whether your version of WordPress is compatible with the plugin. Usually it won't be compatible if the plugin hasn't been updated recently.
My best free WordPress Plugins for Bloggers:
These plugins are all free. Some of them offer an option where you can update them to the premium version for a price.
Yoast SEO
Yoast SEO is one of the most popular WordPress plugins for bloggers. It helps attract traffic from Google and gives you tips to make your content more readable. You can upgrade to the pro version.
If you want your posts to rank on google, then this is the plugin you need. They also offer free courses in SEO so you can learn even more about how to rank on google.
Even if SEO may seem like something so out of reach when you first start your blog, believe me, you want to start working on it asap. I have seen many bloggers reach 100 or even 200 posts and they have to back and optimise all of them for SEO. This can be such a mammoth task but you can start working on SEO from the start with the help of this plugin.
This plugin simly makes suggestions of the little things you can do to optimise your post for SEO and it is so simple to follow.
I have used other SEO plugins like Rank Math SEO but I always turn back to Yoast.
What is does:
Lets you input a keyword
Gives you a section to enter a meta description which is what Google sees.
Readability check
Makes sure you have no duplicate content
Its always updated for googles algorithm
It works in block editor and classic editor
PIN TO SAVE IT FOR LATER!
Akismet Anti-Spam
What is does:
Akismet Anti-spam filters out all the spam comments automatically so that you don't have to.
Protects you from spam
Their service is integrated into other plugins like Jetpack and Contact Form 7 (on the list).
Analyses all of your comments and finds the right ones to block – you don't have to worry about looking out for spammy comments yourself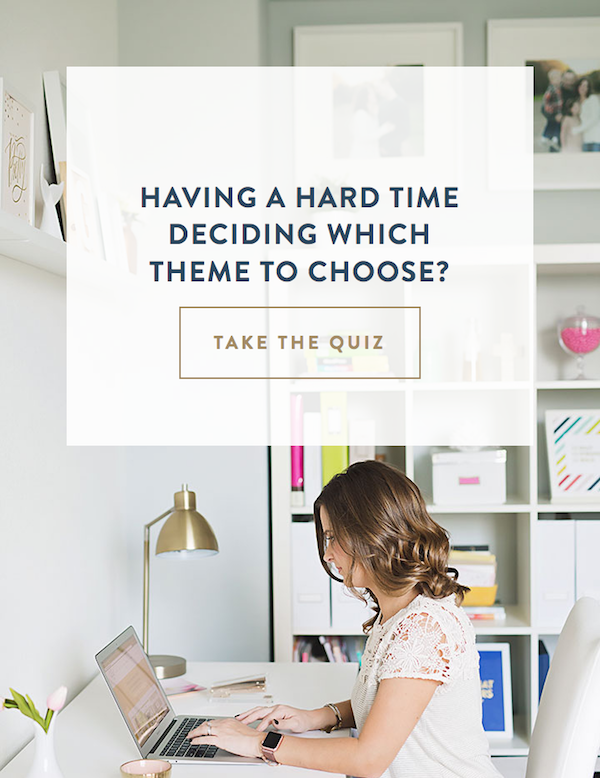 Social Warfare
Social Warfare is a great plugin for promoting your posts. You can control what people share and how they share it.
For example, Pinterest is what drives a lot of bloggers' traffic. This plugin allows you to write a description for your pin so that when people share it they automatically use your description. You can do this if you upgrade to the premium version. It is super cheap per month and well worth it.
This plugin is one of the more recent ones I have installed. I have to say it is living up to expectations.
You are able to add social sharing icons to all of your posts to make it super easy for them to be shared. You can try it out on the free version and you will mostly be looking to upgrade for more.
Sign up to my email list to receive my monthly newsletter along with a FREE monthly freebie! Get this months FREE 4 page Media Kit Template to secure those brand deals and look professional!
Jetpack by WordPress.com
Jetpack is one of my favourite plugins. It does so many helpful things. You can upgrade to a paid version that starts from £3 a month. Jetpack is one of my favourite plugins so far as it offers so much.
I believe it is a must-have for a blog. I think one of the best things it does it let you know when your website is down and when it is back up with an email so that you can look into it – this has happened to me before and it was super useful.
To stop this issue in the first place you need to make sure you pick a good web host!
I use Hostinger and I have had no problems so far! It was the cheapest I could find at only £0.99 a month! How crazy is that! They have an amazing customer services team that has helped me so many times. They were crucial to me at the beginning when I started my blog and I had no idea what I was doing.
Jetpack was created by the company behind WordPress meaning you won't have to worry about compatibility.
What is does:
Automatically backs up your work
Filters spam
Auto-updates
Puts a share button on your posts
Shows you your site statistics
Leads to a faster page speed for mobile users with lazy loading images
UpdraftPlus – Backup/Restore
UpdraftPlus is the plugin I use to back up my website which is so important! They have 4.8 stars out of 5 and they are the highest rating backup plugin.
If there is one plugin you get, it should be this one! Imagine losing all of your blog posts and all of the hard work you put into it just to lose it unexpectedly. Even though the likeliness of this happening is low, I would say it is not worth the risk.
What is does:
It can do manual and automatic backups
You can store it on places like Google drive, Dropbox and amazon web services.
WP-Optimize
WP-Optimise is a WordPress plugin that does 3 in one. It "cleans your database, compresses your images and caches your site." This is important because it sorts through the things that slow your website down. When you save a post a couple of times WordPress save each version. This plugin removes the old revisions to make space for new ones.
This app helps you sort out your page speed. It is an important WordPress plugin for bloggers because you want your website to be as fast as possible so viewers don't click off. To me caching sounds a little complicated and technical. But WP-Optimise sort everything out for me so that I don't have to.
What is does:
Cleans the database
Removes unnecessary data
carries out automatic clean-ups
compresses large images that slow your site down
caches pages – makes a huge difference in speed.
Contact Form 7
Contact Form 7 manages multiple contact forms. You can customise the form. This means people can easily email you about any opportunities like sponsorship posts.
What is does:
easily create a contact form
lets you build it into a post or page
Broken Link Checker
Broken Link Checker is so handy, it finds any broken links and lets you know so that you can fix them. This plugin shows up on my dashboard so I can quickly see if I have any links to fix whenever I go onto my blog so that they do not build up.
If you let your broken links build up it will lead to google not liking your blog at all! So make sure you keep on top of it.
What is does:
Monitors links in your posts, pages, comments, the blogroll, and custom fields
Detects broken links
Detects broken images
Prevents search engines from following broken links
Links can be easily edited through the plugins page
Wordfence Security
Wordfence security has the newest firewall rules, malware signatures and malicious IP addresses. It is a plugin to keep your website safe. Which is extremely important now that there are so many people trying to hack websites.
This plugin is very worth it. Imagine you find yourself trying to get into your blog and you can't because someone hacked it. Thankfully Wordfence can watch your website 24 hours a day and let you know if anyone tries to get into it.
What is does:
check core files, themes and plugins
"compares your files with what is in the WordPress.org repository"
repairs files
checks site for vulnerabilities
ensures your files don't contain dangerous URLs
easy to set up
enables you to make use of two-factor authentication (2FA) – an excellent way of making your site even more secure.
Thirsty Affiliates
Thirsty Affiliates is a great plugin for bloggers looking to monetise their blog with links. A great affiliate program is the Amazon affiliate program – you don't have to have any requirements to join! This was a no brainer WordPress plugin for me as I was having to write the same thing over and over so using this plugin helped that process.
What is does:
Shortens affiliate links to make them more attractive
Hides affiliate code so that malware cannot replace it with their own code
You can categorise your links into groups to manage them easier
You are provided with stats on what is being clicked
Conclusion: Best Free WordPress Plugins for Bloggers
Overall, I believe WordPress Plugins offer so much value to a blog. One of my biggest tips would be to not go overboard with too many plugins as it will slow down your page speed which isn't great. I have around 20 plugins but I am not sure as to whether this is a good amount but it seems to be working for me!
A good thing to do when installing plugins is to have a think about whether you need that plugin all together. Ask yourself the question – Do you really need that plugin? Will it be a massive help to your website or your blog?
If the answer is no, then simply don't install it.
About the Author
So that concludes my best FREE WordPress Plugins for Bloggers checklist! I hope you found this useful. What is your favourite plugin what do you find the most useful?
If you want to find out more check out my about me page. My name is Amber Page and I run The Unpredicted Page. You can find me over on:
SOME OF MY RECENT POSTS: 30+ simple changes for a healthier lifestyle and The positives of Lockdown (written by the people of twitter!)