Disclaimer: ♡ As an affiliate, I may earn money or products from the companies mentioned in this post. I only recommend products or services that I use and trust and that will be valuable to you. ♡ :
So it is Christmas time and you are stuck for ideas… you know they like baking so what should you get them? Don't worry! You are in the right place. I have come up with plenty of Christmas Baking Gift Ideas that might be able to help you.
I've got everything from unique themed baking moulds to gifts for specific people that love to bake including kids, couples, and adults.
I have included gifts available in the UK and the USA so make sure you check where they ship to.
Christmas baking gifts overview:
Culture Cakes Kit
Bake Eat Love
Personalised Kids baking set
The British Bash
Blueberry Muffin Baking Mix Set
Culture Cakes Kit
Culture Cakes Kit is a subscription gift which will arrive at your door each month. A new culture will be represented in each package. They include different snacks and exotic ingredient so that you can make 12 cupcakes.
"Taste & bake the world! Get exotic ingredients, unique snacks and cultural fusion cupcake recipes!"

CrateJoy
All subscrition packages ship on the 4th of each month. This product has 4.3 stars so a pretty successful rating.
This gift is great for kids to try new things. Or even if you know someone who loves baking with different ingredient, someone who likes to bake things a little unordinary.
Subscription plans start from $29.
(Only available in the USA)
Bake Eat Love
Bake Love Eat (also known as BEL Box) comes with premium recipes, speciality ingredients, decorations, kitchen gifts & videos.
"A new experience each month! Ingredients are pre-measured and instructions are tested to make your baking experience as easy as possible. We'll send an email letting you know if eggs, butter or milk are needed."

Bake Love Eat
Each box includes a special ingredient, a new fancy tool they can add to your collection and video tutorials on how to bake the dessert. So they can become a professional. These boxes are suitable for any age and it doesn't matter if you are just a beginner.
Pre-measured, high-quality ingredients
Step by step instructions and video tutorials
Bonus item – Free item for your kitchen in every box
Variety of treats and flavours
12-20 servings
This gift comes with free shipping and plans start from $29.99.
(Only available in the USA)
Personalised Kids baking set
You can find the personalised Kids baking set through Not on the High Street. This set is recommended for children age 5 and under.
"A beautiful set of child-friendly sized utensils, comprising a rolling pin, spatula, pastry brush, spoon and cutting board, all wrapped with a gender-neutral ribbon ready for gifting. Each utensil (except the pasty brush) features the words "Baked with love by" just add your chosen name to create a fabulous gift for the child in your life."

Not on the High Street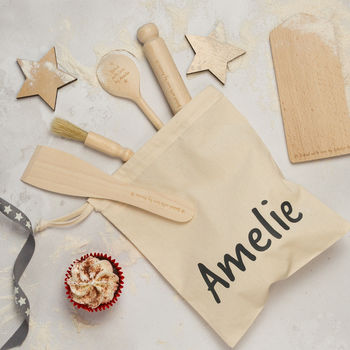 If you know a child that just wants to make a mess in the kitchen and share their creativity then this is the gift for them!
Price: £16.50
(Available in the UK and internationally – shipping is free in the UK)
The British Bash
The British Bash comes with a step by step recipe card complete with the history of the dessert, some fascinating facts from Queen Anne and helpful hints from King Henry.
What is included:
A different dessert each month
Free Shipping
Disposable baking pans included
100% British women-owned company
Authentic British recipes
The great thing is all boxes now contain compostable packaging.
Sneak Peak (December Box):
December's box is a British Holiday classic, make 12 individual Mince Pies. We will guide you through making your own mincemeat and sweet shortcrust pastry from scratch. Mincemeat is a perfect blend of mixed dried fruits, butter, sugar and spices cooked together with the included orange juice or substitute in your own Brandy or another spirit. Perfect warm or cold and excellent with a hot cup of tea.

The British Bash
So if you know someone who loves history then this is for them!
Plans start from $20 a month.
Blueberry Muffin Baking Mix Set
"Marvellous Blueberry & Vanilla Baking mix, 6 individual tins, paper chef's hat and wooden spoon) all packed into a practical gift box. This tasty muffin mix is crammed with high-quality ingredients such as white chocolate chunks, dried cranberries, cinnamon, natural sugar and wholemeal flour. Simply add 2 eggs, vegetable oil and water to create the most delicious muffins in under 30 minutes. Serve warm for breakfast or for afternoon tea. The muffins also make an excellent snack for after school."

Not on the High Street
It is only £10 and it comes in a little box with a ribbon wrapped around. This kit is a nice little gift for anyone of any age and any ability. It also has 5 stars which is amazing!
Available internationally.
My other Christmas and Gift Guides:
Christmas in New York: 4-day itinerary for first-timers
Affordable DIY Christmas gifts: 25 ideas for family
20+ Gifts for the woman who wants nothing
About the Author
Thank you for reading my post about Christmas Baking Gift Ideas. If you want to find out more check out my about me page. My name is Amber Page and I run The Unpredicted Page. You can find me over on: