Disclaimer: ♡ As an affiliate, I may earn money or products from the companies mentioned in this post. I only recommend products or services that I use and trust and that will be valuable to you. ♡ :
Today I decided I'd write about my most recent holiday to New York at Christmas time. Having experienced the madness of New York I wanted to help those of you who are first-timers as it can all be a bit overwhelming. So take a dive into my Christmas in New York: 4-day itinerary for first-timers.
I still cannot believe I went as it is everybody's dream to be able to do what I did. I am so thankful for it and I definitely recommend going if you are able to! It truly is magical.
As this was one of the first times I was able to stay in New York for a long time, we wanted to try and do as many activities as possible. So this will be a great itinerary for those of you looking to see the most you can of New York.
Another massive factor in the type of activities you can do is the weather. We were very lucky and most of our days were dry. We had a rainy/ snow day (Day 2) where we had to change to inside activities so check out that day to see what you can do inside.
Christmas in New York: 4-day itinerary: Overview
Travelling from the airport
Hotel recommendation
Day 1 – Times Square, Open Top Bus, 9/11 memorial, Statue of Liberty
Day 2 – Macy's, Ice skating, visit the Hersheys store
Day 3 – Empire State, Fifth Avenue, Central park
Day 4 – breakfast at Hard Rock Cafe, pizza slice, Light show, shopping again
Additional recommendations: food
New York Pass
New York Travel Tips
PIN THIS POST FOR FUTURE REFERENCE!
Travelling from the airport
It took us around 45 minutes to an hour to get a taxi from the airport to Times Square where we were staying. The traffic was a lot getting out of the airport and then again when getting into New York – as expected.
When we first got near New York, I was astounded by the amount of traffic and how chaotic it was. So make sure you are ready for all the beeping and shouting – as I for sure wasn't!
Hotel recommendation
So, I went with my girlfriend and her family and we stayed in the Marriott hotel in Times Square. This hotel was so insane, if you made your way up to the top of the hotel you would find yourself in their 360 revolving restaurant where the floor was moving. Absolutely crazy. I'd say it took about an hour to go all the way around and get back to where you started. This was so cool as you were able to see the whole city from the windows and you got the whole 360 view within the hour.
I would recommend staying as close to Times Square as you can if you are a first-timer. As you are sort of in the middle of all the major tourist attractions so it makes sense.
Here is a map of what you could see as the hotel span round:
Day 1
Wake up early and get to Times Square before anyone else
Due to the change in time zones, we were waking up at ridiculous hours in the morning ready to start the day. Since nothing opened till 8/9 am, you may as well take a walk around and see what you can do. Due to our hotel being in Times Square, when we looked out the window it was incredible to see barely anyone there compared to the sights you can see below:
Take an open Top Bus
The best way to travel around New York is by the Bus tours. Now don't be fooled by the millions of people trying to sell you tours for different prices. We used the New York Pass, which allowed us to use the Big Bus Tours. Despite a lot of people thinking the buses are a waste of time, I do think they are helpful if you do not have a lot of time as you get to see a lot of the sights.
You can hop on and off the bus wherever you like but just make sure you don't forget when the last pick up time is!Or you will be stuck paying a fortune in a yellow taxi.
9/11 Memorial and Museum
One of the first tourist attractions we found ourselves in was the 9/11 memorial. This was our first stop off the bus. We had bought the New York Pass, which allowed us into certain tourist attractions with pre-bought tickets. You could download all your tickets on their app on your phone. We queued for a while – around an hour – to get into the museum. It was well worth the wait. The museum is underneath where the twin towers were so some of the infrastructures were still in place and the museum built around it.
Get a ferry to the Statue of Liberty
Our next venture was to the Statue of Liberty. The New York pass didn't allow us onto Staten island, but we able to get a boat that circled it. Due to it being winter, there were extreme icy winds this day. This made it so funny as we were able to stand on the outside of the boat to take pictures whilst the boat was swaying side to side from the wind so we found it hard to stay balanced whilst taking photos.
If you could get a ticket to be able to go into the statue that would definitely be something to try, this was something we didn't do because of our passes. The experience we had was equally as great.
Day 2
Get your rain coats on
Next up on the Christmas in New York: 4-day itinerary is getting prepared. It is a must to take a raincoat when you go to New York in the Winter. We were able to grab these waterproofs from the Big Bus Tour we did so that our clothes could stay dry while we trekked to our indoor activities.
Get all the discounts in Macy's
Next stop: shopping at Macy's. All the Christmas decorations looked incredible. I didn't realize how big Macy's was until we had a look, the place is massive like a maze. But they do have such good deals on pretty much everything in the store at Christmas.
You really could spend hours trekking around all the floors and looking at all there is to offer. It is a great place to go when the weather outside isn't the best.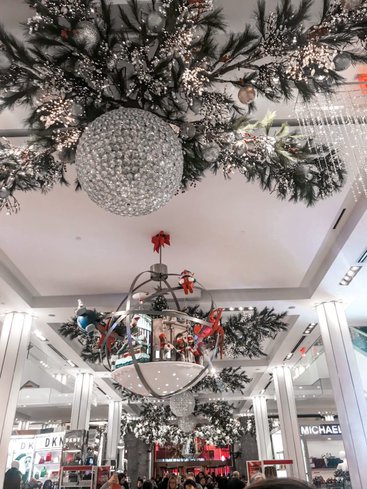 Visit the Hersheys store
A little exciting indoor activity was when we visited the Hersheys store. You receive a little bar of chocolate on entry. They also had a section of Reeses Chocolate if you were a fan of that as well.
So, if you are a big fan of chocolate then get yourself over to the Hershey's store. It is right on the street by Times Square so if it suddenly starts raining you know where to go.
Get your ice skates on at the Rockefeller Center
This was probably my favourite part of the week. We went ice skating outside the Rockefeller Center. This is one of the top things to do in New York in winter. I recommend going VIP as we were able to hop on and off the ice to get a hot drink and cookies – as many as we wanted! We also tried to go to the top of the Rockefeller Center but we were turned away because there were too many clouds so we wouldn't have been able to see anything. We were told it was a similar enough to the top of the empire state so we had to leave it.
Day 3
Climb the Empire State Building
A must on a 4-day itinerary for Christmas in New York is the Empire State Building. Due to the time zone, we were waking up at 5/6 am in the morning so it was no trouble getting to the empire state building for 8 am to beat the queues. We were pretty much straight in, we just had to wait for the lifts and mini queues. I really enjoyed going up the building as they offer things to do and look at on your way up.
They have video recordings and pictures and face and the building. You come to the middle floor where you can take pictures from the windows before making your way to the top where you can stand outside. There was another lift to take you up a little bit higher if you had paid for it, but I don't think the view was much different from where were. This is a must when in New York.
Save your money for Fifth Avenue
Fifth Avenue is something you have to take a stroll down, its lively, pretty and colourful. Unfortunately, it's very expensive, hence the name, millionaires' row. Fifth Avenue is well known for the enormous amount of shops that are on it. It's not all just shops though, Trump tower is on there too. The great thing about New York is that it's all straight rows which meant we were able to see so many different shop windows, and of course, at Christmas time the shop windows were mesmerising, I remember Saks especially having an amazing display.
Although we didn't buy anything when we walked down it, it didn't take away the buzz we got when walking down. I know how much my boyfriend loves to look at watches so lucky for him, there were many watch shops which made this one of his favourite parts of the trip. So it is a great place to spend some of your time window shopping as I did!
Take a Stroll round Centre Park
Central Park is one of my favourite places in New York. I still have yet to walk around the whole of it because it is just massive. Hiring a bike and taking a ride around the park because you just get the most amazing views and it is a lovely bike track, I recommend doing this. I would imagine it would be an incredible place to go if the snow settled.
Grab a bite at Rosies
We hadn't planned to eat here, in fact, we hadn't planned anywhere. But we were all very hungry. As it happens we couldn't have picked anywhere better for lunch, the menu was huge and there wasn't one meal that I wouldn't have eaten. I had a club sandwich, my boyfriend, his dad and sister had a steak sandwich and his mum a chicken burger, we all absolutely loved our meals. Although Rosie's didn't look like much from outside, the inside made up for it. The staff were kind and organised, the interior was comfortable and inviting this was especially important given how cold it was outside. I couldn't recommend this place enough, New York is full of chain restaurants and independent ones and I'm sure whichever one you pick to eat at, you won't be leaving disappointed but you will be leaving feeling stuffed!
Day 4
Grab breakfast at the Hard Rock Cafe in Times Square
So I recommend the breakfast at Hard Rock Cafe as the choice are incredible. We had the buffet where you first get a choice of pancakes or waffles. You then get to take a trip to the buffet where they had fruits, yoghurts, pastries and hot food like bacon and sausages. There was everything you wanted!
Get your $1 pizza slice
I talk more about the pizza slices later but OMG they are incredible! You can find them on most corners of New York so there is always a chance to grab one on the go. You can just get the plain ones or go for the topping for a little extra money.
Watch the light show at night time
If you get chance then get to the Rockefeller centre at night time and watch the fifth avenue Christmas Lights. It is a great way to get into the Christmassy feeling. It really is a magical display. Christmas in New York is one of the most magical things to see.
Food recommendations
So starting off with breakfast. I would recommend the Brooklyn Diner in Times Square. I had the omelette here, which came with toast, this tomato sauce and potato things. The decor was so cool and the service was very good here.
If you know me then you know that I am OBSESSED with acai bowls. If you don't know what they are, they are normally eaten at breakfast as they include granola and fruit, including the acai berry which is a superfood. These are a must if you go to New York because you can't get them here in the UK. I recommend getting the Nutella one.
So right here we have a turkey, bacon club sandwich. This was from a restaurant called Rosie O'Grady. I cannot stress enough how delicious this was. All food portions in New York are massive! So the fact it was on the lunch menu is crazy.
It wouldn't be a trip to New York without helping ourselves to the $1 pizza slice – and I can tell you it doesn't disappoint. There were little pizza shops all over the city. You could walk 5 minutes in any direction and be able to find one.
New York pass
So we actually used the New York pass when we went to New York. Which I would recommend for first-timers. The passes are valid for 2 years. You can also download the app so it makes it so much easier than carrying around pieces of paper with the barcodes on it.
"The only all-inclusive sightseeing pass that features the Empire State Building, an app and fast-track privileges. Over 3+ million customers trust us. Discover what makes The New York Pass so special.

Free entry to 100+ top attractions including the #1 – Empire State Building. Fast track entry at selected attractions. Hop on hop off bus tour included. Additional New York Pass holder deals and discounts.

New York pass
As you can see you can save so much money than if you bought tickets separately. So if you are someone who is looking to have a jammed packed holiday full of sight- seeing then this pass will help you out.
New York Travel Tips
Well, that rounds up my Christmas in New York: 4-day itinerary! We did receive about half an hour of snow, which was pretty cool, but with all the traffic and the people it soon cleared up.
I thought it important that I include some of my top tips when being in new York:
Watch out when crossing the road – cars WILL NOT stop for you
Use the advantage of the time difference and queue early
Check the weather so you can plan your inside and outside activities – there are so many cool inside NYC activities you can do if the weather is disappointing.
About the Author
Author: Tom Beech
Tom Beech is currently a Marketing Executive with a passion for writing. He
is one of our authors who contributes regularly to our site.
It would be great to hear about your experiences. Where is the best place you have travelled to?