Disclaimer: ♡ As an affiliate, I may earn money or products from the companies mentioned in this post. I only recommend products or services that I use and trust and that will be valuable to you. ♡ :
Today we are going to be looking at easy acai bowl recipes without acai powder. These are simple DIY acai bowls that you can create from home which are super easy. I first tried acai bowls when I was out in America, and they became my new favorite thing! I would eat them for any meal of the day. Now I am back in the UK where we do not get acai berries and acai powder can be quite hard to get your hands on. So I decided to come up with an acai bowl substitute.
RECENT POST: What does it mean to manifest something?
Jump to Recipe
So keeping reading on to find out how to make acai bowls without an acai packet. Let me know if you try this out or if you know of any other ways to copy the original acai bowl!
I have also included some FAQ about acai bowls including how to make acai bowls without bananas and the acai substitues you can use so I hope you find this helpful!
TAKE A LOOK AT THIS POST: Super Quick and Easy White Chocolate and Oreo Cheesecake
Do I have to use bananas in acai bowls?
So a lot of people substitute acai berries for frozen bananas and frozen berries including blueberries, raspberries, and strawberries. The only issue is bananas are not everyone's favourite fruit. But do not worry! You do not need bananas in your bowl to duplicate the acai look or taste.
Becuase the fruit is frozen when it goes in the blender, I like to let it melt a tiny bit before I pop it in as I have has my blender break before when it tries to blend ice!
Will my acai bowl taste different without the powder?
Of course, without the acai in your bowl, it will taste slightly different to the original bowls that include acai. But the bowl you create will definitely be just as good so no need to worry about that!
Where can I get acai powder from?
If like me, you really wanted to get your hands on the acai powder, then check out the best acai powders I have found so far! They are all slightly different in price but they all do the job! Etsy has lots of different buyers selling acai powder so be sure to take a look.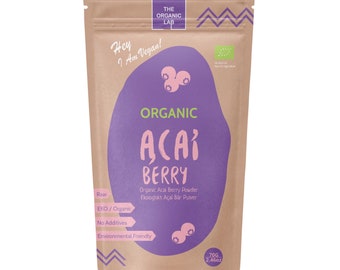 PIN THIS RECIPE FOR LATER!
Acai Bowl without Acai powder
This recipe shows you how to replicate an acai bowl if you do not have any acai berries or acai powder. The taste, look and aesthetic should be very similar! This is such an easy method to achive the desired outcome so I hope you enjoy.
Ingredients
1/2

Frozen Banana

1

Frozen Berries
Toppings (Not required/ Use what you like!)
2

Strawberries

1

tbsp

Chi seeds

1

tbsp

Nutella

1

tbsp

Peanut butter

1/2

Banana (not frozen)

1

Kiwi
Instructions
Pop the frozen banana and berries into a blender. Ideally, let's take the frozen fruit out the frezzer abour 10 mintues before you blend as this makes the mixutre softer.

Once the mixture is blended nicely, you can pour this into a bowl and set it aside.

Next, you need to chop any fruits that are going onto your mixture.

OPTIONAL: Add your spoonful of nutella and peanut butter onto the mixture.

Lastly, arrange your fruits and chia seeds on top of your spreads and youre done! Enjoy!

Of course you can use any toppings you would like.
Notes
Calorie breakdown:
1 frozen banana – 46 cals
1 handful of frozen berries – 20 cals
Toppings:
tbsp Nutella – 80 cals
tbsp Peanut butter – 94 cals
2 strawberries – 66 cals
1 kiwis – 61 cals
1/2 banana – 46 cals
chia seeds – 70 cals
Print Recipe
Acai bowl without acai powder: FAQs:
Do you need Acai Powder to make an acai bowl?
Technically, if you do not have any açai berries or powder then it is no longer an açai bowl. However, you can easily substitute this ingredient.
How do you thicken Acai bowls?
There are a few ways to thicken acai bowls. You can either add in frozen bananas, or you can add in more ice. Basically, if the fruit is not frozen then the mixture will be more juicy and thin the liquid will be. So if the fruit is frozen or you add ice then it will thicken the mixture.
What can I used instead of banana in acai bowl?
If you are not using banana then you can extra ice as the frozen banana is what thickens the mixture.
What else can I add in an acai bowl?
You can pretty much add whatever you like into the blender. I know people like to add: protein powder, oat milk, strawberries, blueberries, blackberries, cherries.

I like to add granola to the top as I think a bit of crunch is great!
PIN THIS RECIPE FOR LATER
About the Author
Author: Tom Beech
Tom Beech is currently a Marketing Executive with a passion for writing. He
is one of our authors who contributes regularly to our site.