Disclaimer: ♡ As an affiliate, I may earn money or products from the companies mentioned in this post. I only recommend products or services that I use and trust and that will be valuable to you. ♡ :
The amount of baking going on during lockdown has drastically increased. I thought I would jump on the bandwagon and have a little go myself. To my surprise, I created a wonderful cheesecake so I thought I would share it with you! I was inspired by The Northenist Blog who created beautiful white chocolate and oreo cheesecake so I used the base of the recipe.
I had never made a cheesecake before so I was unsure of the consistency and how to go about it but this recipe covered all of that perfectly.
I hope I can inspire some of you to create this wonderful cheesecake. It is honestly one of the best cheesecakes I have tasted… and I eat a lot of cheesecake!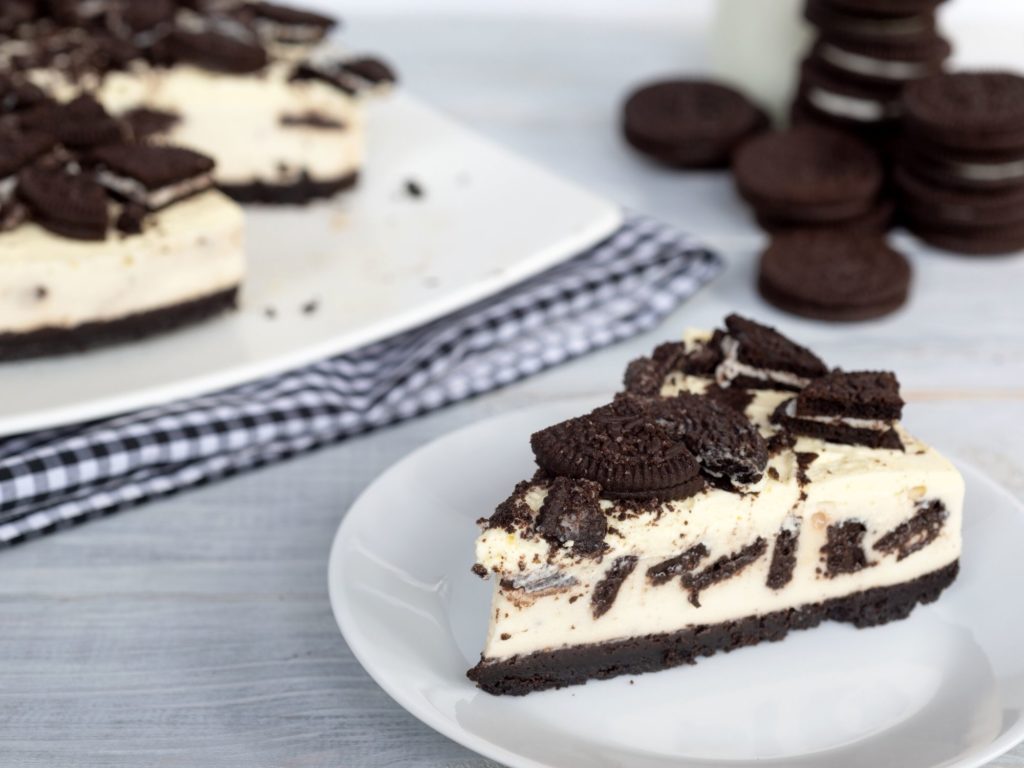 Ingredient
You can also add any kind of decorations to the top of your cheesecake. So anything from milk chocolate to smarties and kinder bars.
SOME OF MY RECENT POSTS: 5 ways to make money online without paying anything (I made £300) and Short breaks in Britain you should consider after quarantine
PIN IT FOR LATER!
How to make your white chocolate and oreo cheesecake
1. Grease your tin with butter, or line it with foil. I used foil because I do not have a spring tin therefore I used the foil to pull the cheesecake out of the tin.
2. Split the Oreos into 2 separate bowls into cream and biscuit.
3. Move the filling to one side and measure out 150g of oreo biscuits and crush into tiny pieces. I used a rolling pin. You could place the biscuits in a zip lock bag to crush them more easily. You should have leftover oreo crushed biscuits for later. (leave a couple of spares if you want to put them onto as decoration – that's what I did – or you can put them in the mixture later on).
4. Slowly add the melted butter and mix with the biscuits.
5. Pour the mixture into your tin and pat it down evenly until the whole base is covered and firm.
6. Put the base in the fridge while you make the rest of the mixture.
7. Break up all of your white chocolate into little chunks and melt in the microwave for 30 seconds. Take it out and stir it. Keep doing this process until completely melted. Alternatively, you can put the chocolate into a glass bowl and heat over a pan of simmering water until melted. I prefer the first option. Now leave this to cool.
8. Next, in a big bowl, use an electric whisk to beat the cream cheese ( I used cottage cheese as that's all I could find) until its smooth.
9. Add in the white melted chocolate and the oreo crème and mix until smooth.
10. In a different bowl, whip the double cream until it forms soft peaks – DO NOT OVER WHIP.
11. Fold in the whipped cream and the leftover crushed oreo biscuits till combined.
12. Pour this mix onto your refrigerated base and you are DONE! You can put this in the fridge to set for at least 4 hours, but overnight is best.
PIN FOR LATER!
How to decorate your cheesecake
So I fiddled about with the decoration and made it my own. I added the things I liked so you can add anything you like!
If you would like to decorate, you can do it before or after you put the cheesecake in the fridge. I couldn't wait so I did it before You can decorate it any way you like, this is how I did it:
Break up any leftover Oreos and just push them into the mixture.
Melt your milk chocolate in the microwave in 30-second blasts.
Drizzle this over the top however you like.
The oreo flavour isn't too strong and they melt a little so it's easy to scoop them up.
About the author
If you want to find out more check out my about me page. My name is Amber Page and I run The Unpredicted Page. You can find me over on Twitter and Instagram!
Other Cheesecake Recipies you need to try: Peach Cobbler Cheesecake
SOME OF MY RECENT POSTS: 5 ways to make money online without paying anything (I made £300) and Short breaks in Britain you should consider after quarantine