Disclaimer: ♡ As an affiliate, I may earn money or products from the companies mentioned in this post. I only recommend products or services that I use and trust and that will be valuable to you. ♡ :
Do you really know yourself? Are you happy with life? Are you making the most of everything? Well, I have come up with 50 questions about yourself to develop your personal growth and work on yourself. These questions can also be used as personal growth journal prompts. So recently I have been getting into journaling and I wanted to think up some questions that could help me with this!
Journals can be a great place to write down all your thoughts and feelings.
They are designed to make you really think about yourself and about those around you. They will make you think about gratitude and being happy for what you have. You make even find out more about yourself and think about things you haven't really thought of before.
Asking yourself questions is an amazing way to start to understand yourself a bit better and release what you want to do with your life. I know it can all be a bit confusing which is why you need to go through all the questions one by one.
This post was inspired by Ell Duclos.
Self – discovery questions:
What are I grateful for?
Where am I determined to travel to?
What get's me down?
How can I control it?
What are my worst habits and how can I control them?
What makes me happy?
Do I have any regrets?
What do I need to do more of?
What do I need to change about myself?
If I could live anywhere on the planet where would I live?
What is my favourite thing about life?
What is your favourite book and why do you like it so much?
Where do I want my career to go in the future?
What hobby have I been wanting to start?
What scares me the most?
If I had to change a part of my past which part would it be?
What advice would I offer someone younger than me?
Should I be spending more time with certain people?
Do people know the real me?
What are my 3 favourite memories?
What experiences do I want to repeat?
If I could go back in time where would I go?
What is my favourite season?
What will I spend my energy on?
Am I limiting myself in any way?
What do I need more of in my life?
What do you love about yourself?
Why am I worth knowing?
What motivates me to keep going?
How can I feel more confident?
What impact do I want to have?
What makes me anxious?
Who makes me happy?
What is my biggest weakness?
Have I changed as a person? Was this for the best?
Am I looking after my health?
Do I push myself to be the best I can be?
Am I looking after those around me?
What makes me feel powerful?
Am I fulfilling my short term goals?
Is there anything more I can to to achieve my goals?
What does success mean to me?
What should I be doing less of in life?
Is there anybody that is hindering me?
Am I looking after my body enough? Am I doing enough exercise?
What three things made me smile today?
Is there anything I need to let go off?
Is there anything wrong in my life right now?
What (if anything) is stopping me from facing my fears?
Am I doing things for myself or to please other people?
Final thoughts
After asking yourself these questions it is good to reflect. Reflection can be so important. It makes you think further into what you can do about the answers to your questions. If yuo struggle to answer any of the questions then try writing them down instead of thinking about them.
A great thing you could try to do is start journaling. A journal is a great way to write down your thoughts, feelings, your plans and aspirations and your short term goals on how to get there. They also let you get a bit creative. If you need help learning how to start a bullet journal I have a post covering it. These personal growth journal prompt questions can be a great place to start.
PIN FOR LATER: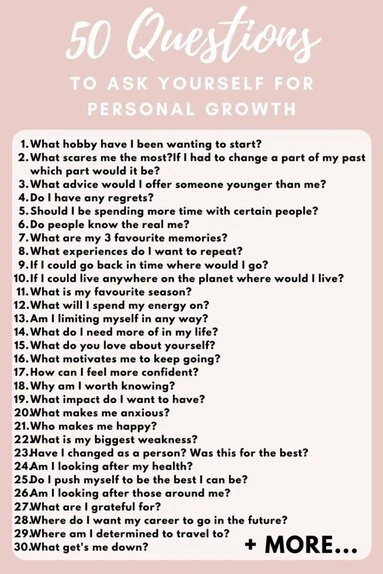 About the Author
Thank you for reading my post about 50 questions about yourself. If you want to find out more check out my about me page. My name is Amber Page and I run The Unpredicted Page. You can find me over on: