Disclaimer: ♡ As an affiliate, I may earn money or products from the companies mentioned in this post. I only recommend products or services that I use and trust and that will be valuable to you. ♡ :
It is almost that time of year again… Valentine's Day! How exciting is that? If you are struggling with choosing the right gifts then I am here to help you. Sometimes it gets to the point where you feel you have bought someone EVERYTHING they need already. So I have some slightly different gifts that may be great for you!
These gifts are great valentines resents for your partner, your friends or anyone you want to send a gift to! Please let me know if you try any of these gifts out!
Carfume is a great one to start off with! Carfume is a company that provide car accessories that smell incredible! They offer gifts for her, for him and unisex gifts. So there is something for everyone! If you are looking for something a little lower in price then this is a great shout. Not only is it practical, but it is super cute and smells incredible!
REMEMBER: If you are a student don't forget to apply your student discount! Sign up here.
They are offering 20% OFF AT CHECKOUT so make the most of it while you can. I tried one out in the Love Hearts and it smells incredible! I definitely recommend it.
Love Book

Love Book is a super cute option to go for. Again, you can buy this for anyone!
You can create your own personalised story and make it exactly how you want! There are so many different options that you can go for so you will be sure to find something you like.
Create Your Own Personalized Valentine's Day Gift To List All The Reasons Why You Love Them.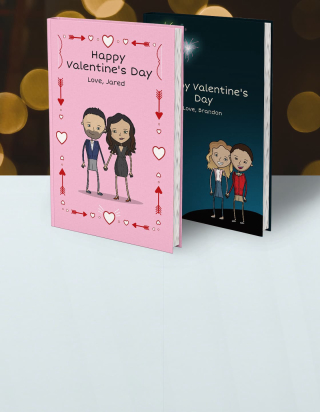 All you have to do is select the Valentine's option and personalise your book… it's that easy!
Precious moments
Precious moments offer super cute figurines that you can put around your house or in your bedroom. They are slightly more on the pricy side so take this into consideration.
Celebrate a precious love shared with Precious Moments figurines and gifts.

A Gift Personalised
See a great selection of Valentine's Day gifts that you can personalize FREE! Plus, these great gifts are ON SALE now at Engravable Gift Collection.
"Looking for a unique Valentine's Day gift they'll love? On this romantic holiday give your Valentine a clever, personalized gift that showcases your thoughtfulness and love. Our huge selection of personalized Valentine's Day gifts, are just right for this once-a-year occasion. Add a memorable saying, date, or inside joke to one of our unique options for a gift that's sure to impress.

Whether this is your first Valentine's Day together, or your fiftieth — we've got a variety of options for everyone. Go the extra mile this year by adding your own personal touch to your gift!"
Prices range from $11.99 upwards so the items are super affordable and there is something for everyone! From mugs to cushions to key rings, there is so much choice you won't know what to go for.
Helloice
Helloice offer multiple gifts for her and for him. You can use code FREE to buy 1 get 1 free. They offer a range of pendents, jewellery sets and chains. You can even personalise them.
They even offer watches and necklaces at a slightly higher price so make sure you check all of there stuff out!
Check out the special design, hip hop watches for men, up to 70% off.
Jeulia
Jeulia is a premium jewellery brand that offers a range of beautiful jewelery including rings, bracelts and necklaes.
They are currently offering 15% off sitewide.
"From lovely promise rings to gorgeous cocktail rings,each ring shimmers with all your beautiful moments to come. Browse Jeulia's wide selection of fashion rings to find the perfect ring for every occasion. From elegant to fun, express your unique style with our fashion rings."
BONUS: Free Gifts Valued $35 for first order
About the Author
Thank you for reading my Valentine's Gift Guide. If you want to find out more, check out my about me page. My name is Amber Page and I run The Unpredicted Page. You can find me over on: