Disclaimer: ♡ As an affiliate, I may earn money or products from the companies mentioned in this post. I only recommend products or services that I use and trust and that will be valuable to you. ♡ :
B2B content marketing is a completely new ball game. You have copywriters in one ear and SEO Executives in the other. Who's right? I hate to say it, but they both are.
The trick to being a great B2B content writer is to understand the basic principles of SEO and apply them to your writing. All whilst producing relevant, engaging and useful content for business professionals.
It's not at all easy.
But in this article, I'll share the secrets I've learnt writing killer copy for Quadrant2Design and show you how I took the world of B2B content marketing by storm.
RELATED CONTENT: How to do Keyword Research for SEO for free
PIN THIS FOR LATER!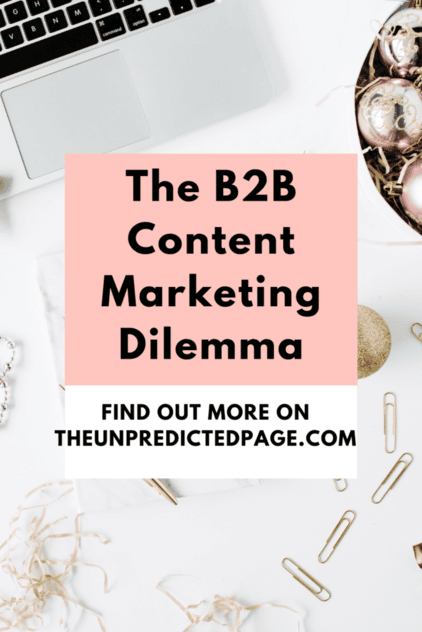 Content Marketing and SEO
Since the dawn of time, copywriters and SEO Executives have been at war. Copywriters want to create great content. They want it to be engaging, useful and look fantastic on a page. SEO Guru's care less about aesthetics. They look for keyword optimised headings and strategically formatted copy.
The irony is that both of these people strive for the same results. They want people to read (and enjoy) their content. It is the reasoning behind this goal that differs.
Why do Content Marketers Create Content?
Content marketers create content to offer additional value to their audience. They are using online channels to build relationships with existing customers and form the foundations for new relationships.
Why do SEO Professionals Create Content?
SEO professionals want relevant web content that ranks for a handful of search terms that their audience is interested in. Content should increase organic traffic to generate leads. Therefore ranking in the search engine results pages (SERP's) is the top priority.
Can you Spot the Difference?
Content marketers want to build relationships. There's nothing wrong with that. We all know it costs much less to keep an existing customer than it does to hunt down a new one. Plus, as a content writer myself, I can resonate with excitement you feel when you see an increase in returning users.
SEO executives want to see pages ranking on SERP's. They want content that draws in a new audience, capturing data and generating leads. To achieve this, they need expertly optimised material. Everything is scrutinised to create a perfectly optimised page.
I'm not saying SEO executives want to sacrifice content quality. Anyone who knows anything about SEO understands the importance of user experience. But what makes content great in a copywriter's frame of mind doesn't always improve its ranking potential.
What is Content Marketing?
So what is content marketing? To put it simply, content marketing involves creating and sharing online material with an audience. It doesn't have to explicitly promote a brand. However, it does have to be relevant and useful to stimulate interest.
Social media is a common tactic that falls under the content marketing umbrella. If your target market is using social media (which they probably are) then you should be sharing content and engaging with an audience via those platforms.
In second place is blogging. Blogging used to be reserved for creative individuals to take ownership of a small corner of the web. Now, businesses of all sizes are taking advantage of a company blog as part of their content marketing strategy.
With a company blog, you can provide your audience with useful information. Let's say your business sells cured meats and condiments; you could offer recipes, picnic destinations, a guide to home-curing, or some information about the meat and ingredients.
These blogs won't directly promote the brand. But they are useful to individuals who have purchased the product.
B2C Content Marketing
A content marketer always wants to create something that their audience will love and find useful.
That's the first rule of writing great copy. Easier said than done. Even more so when looking at a business professional audience.
B2C companies sell directly to consumers. These are the high street and eCommerce brands that we all buy from (think back to our cured meat example).
Now, to say that B2C content marketers have it easy is unfair. Their audience could range from young parents, pet owners, millennials or DIY gurus. But being able to narrow down your audience in such a way does give you an idea of what type of content you should produce.
Take a look at these examples from Topshop and Homebase:
Topshop are speaking directly to their target audience. They've created a blog post that pulls together fashion with cinema. It's engaging, fun and doesn't directly promote the brand.
Homebase sell tools, paints, furniture and everything you need to renovate your home. Their company blog tells people how to do these renovations. You can access these guides without buying a product from Homebase. They don't promote the brand or any specific products; they solely offer value to potential customers.
What's the point?
If content marketing doesn't directly sell to potential customers, what is the point? It's not supposed to sell. That is the point.
Effective content marketing aims to build an online relationship with customers. You are the expert on your product or industry. Your customers know that. They come to you for advice, entertainment or escapism. As relationships form, you build a loyal fan base. In doing so, you generate repeat custom.
Why is B2B content marketing any different?
B2B Content Marketing
There are two reasons B2B content marketing is different (harder!) than B2C content marketing.
Firstly, your niche business audience won't be found on Facebook or Instagram in the middle of the day. Reaching these people is much harder.
Secondly, your audience is already highly knowledgeable about your subject. You are speaking directly to business professionals, most likely in an industry similar to your own. Tone of voice is different. Formality is different. Intent is different.
And this is why the SEO experts end up sticking their noses in.
Reaching a B2B Audience with Content Marketing
Social media is a write-off. Almost. When it comes to social media, you have two options:
Target your business audience out of office hours
Use LinkedIn and hope they're not busy
Traditional content marketing distribution strategies won't work on a B2B audience unless they are procrastinating, easily distracted or they never switch off their work brain. This, as I'm sure you can imagine, isn't ideal for a B2B content marketing professional.
Distribution may be challenging, but the audience is looking for the same thing. They are seeking information or advice on a particular topic. A topic you are an expert on. B2B content marketing can deliver. But your audience won't stumble upon your content. They are searching for the information they need.
Your content has to rank. End of story.
To reach a B2B audience with your content marketing strategy, you have to make it rank in SERP's. I know how painful that is to hear. But I promise that you can still create killer content that your audience loves. You'll just have to listen to your SEO colleagues and optimise, optimise, optimise…
Writing for a B2B Audience
Remember at the beginning of this article when I told you the key to content marketing was to create content your audience loved. I was wrong. In B2B content marketing, you have to create content that your audience needs.
It also has to be relevant. Not full of jargon, but not dumbed down to accommodate the masses. You have to mimic their level of authority.
Tone of voice should remain friendly but have an element of confidence. You know what you are talking about and the reader can trust the information you provide.
Your audience is knowledgeable. They are educated and searching for content about their field. Don't talk to them like children but remember they are searching for information. Spell everything out in the right language.
Remember that your audience is searching for information. How to use a product or solve a problem. You can provide the answer. That is the purpose of your content. Avoid going off on a story-telling tangent, stay away from jokes or headline puns and do not promote your own product.
Add a Dash of SEO
If your content isn't ranking in search engines, your target audience won't see it. Your B2B content marketing strategy will be pointless.
After years of arguing with the SEO executives, I have finally caved. Do you know what I discovered? It's much easier to write great, well-optimised content than it is to edit content for SEO after it is written.
First things first, you need to do a bit of keyword research. Choose the word or phrase that you are targeting. If you're a good content marketer you'll have done this already, but we call it audience research. What question are you answering? That is your keyword.
Now you have your keyword, have a look at some of the content that already ranks for that search term. How long are these pages? How many images do they use? Who are they written for? Create your editorial guidelines using the first page of rankings.
That's the key to SEO you see. Yes, there are a few technical bits that come into it. But in reality, to write content that ranks in search engines you have to write the best content on that subject.
Isn't that all a content marketer aims to do anyway? Yes.
So now you know that all along you have been an SEO genius, let's cover a few of the technical aspects you should worry about.
Headings
I know. You have curated the perfect combination of power and alert words. Your heading is emotive and uses negative connotation to increase click-through rates. You spent ages on your heading.
But an SEO executive would scrap that in a heartbeat for a 50-60 character heading that starts with the keyword you are trying to rank for. Find a happy balance. You can have an engaging, impressionable heading that contains the keyword.
While you're at it, make sure you are breaking up large paragraphs with subheadings. No section should contain more than 300 words. And make sure your subheadings use your keyword when it's appropriate.
Flesch Reading Ease Score
I've always looked at content marketing as a cross between journalism and SEO. Traditional journalists never had to worry about sentence length, white space or jargon. They had a story to tell.
On the other hand SEO execs literally write thousands of words for a robot to read. They have no intention of a real-life person ever reading their content. It's all about the crawlers.
A content writer sits in the middle. They create content for a real-life audience but make sure the bots have no difficulty reading it. To do that, it has to have a high Flesch Reading Score.
Varying sentence lengths, bullet points, heading distribution and limiting your use of difficult words can improve your reading score. The higher the score, the easier your text is to read. B2C content marketers should aim for a score of 70+. B2B content marketers should aim for 60+.
Images
If you're responsible for the images, you should know the basics of image optimisation. Save your jpegs with titles that make sense and use dashes to separate the words. Reduce the file size as much as possible. And use appropriate ALT tags to tell the search engines what that image shows.
Keyword Stuffing
Search engine optimisation is not about keyword stuffing. If that's your opinion of SEO then it's time to change your mind.
Once you have chosen your keyword, you should aim to use that word, phrase or synonyms throughout the text. But only where appropriate. If you were writing a guide on B2B content marketing, it would be unnatural to use your key phrase in every paragraph.
Old school SEO would have expected you to use this word as much as possible. Search ranking algorithms have evolved since then. Keyword stuffing is a big no. Your writing has to be useful, informative and add value.
B2B Content Marketing in Practice
As discussed, I am a B2B content marketer. I produce content for and audience of business owners and marketing managers. And I'm pretty good at it.
B2B content marketing isn't just about relationship building. We want to bring organic traffic to our website so that we can generate leads. And we've achieved more than we could have imagined.
To do that, I had to change my mindset. I had to listen to the SEO team and adapt my writing style. I did everything that has been laid out in this guide. My writing improved by following the Flesch Reading Score guides and we were able to rank for 3,500 additional keywords in under 12 months.
That's when I realised maybe these SEO experts do know what they're talking about and to be a great content writer in a B2B environment I should probably start paying attention.
Here are some of the blog posts that I have written for my company, Quadrant2Design:
If you haven't guessed, we design and build exhibition stands. Our customers are people who are exhibiting at trade shows. All of the guides I have written answer a question about exhibiting. They provide additional value to exhibitors and answer questions that people have put into Google.
Overall, I think you'd agree that I've been pretty successful in my approach to B2B content marketing. I've ticked the boxes on a content writer's checklist and the boxes on an SEO expert's checklist. The results speak for themselves.
About the Author
Natalka Antoniuk is a content writer at Quadrant2Design. She has written for publications such as G2, Event Industry News and Tool Kit Magazine. Her guides help business owners and marketing professionals improve their face-to-face marketing strategy and grow their business.